FEATURES
Offered in four Nominal Cooling Capacities 1.0 Ton, 1.5 Ton, 2.0 Ton & 2.5 Ton
Efficiency up to 13.0 SEER when matched with MAXAIRLV-e Air Handlers with the specified A-coil/Intake Plenum accessory
High Efficiency Scroll or Rotary Compressor
Insulated Cabinet for Sound Attenuation
Sloped base pan – Positive drainage to the building exterior
Common Cabinet Dimensions, and Exterior Grille Dimension, for all Cooling Capacities – enhances exterior aesthetics
BENEFITS
Lower Installation Costs
Easier Servicing (in any weather)
Improves Building aesthetics (no exterior equipment clutter)
No expenses for additional roof reinforcement
No penetrations for piping, or wiring, are required through the roof membrane
Power consumption is individually metered to each apartment/condominium suite
SUBMITTAL FORMS
DIMENSIONS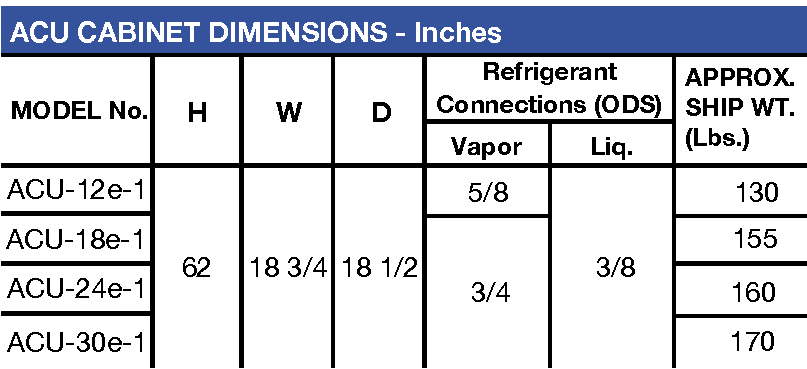 1. Grille screws to the exterior face of the Wall Sleeve.
2. Grilles can be custom painted to colour match any building exterior.
Consult Airmax Technologies for additional information and cost.



Sleeve installs during building construction to facilitate subsequent condensing unit installation or removal. NOTE: Sleeve ships knocked-down for field assembly.